Continuing to Position the Brand as a Leader in Atlantic City, Resorts Casino Hotel Announces Completion of $11 Million Room Renovation Project
ATLANTIC CITY, N.J. (May 5, 2016) – Resorts Casino Hotel, a Mohegan Sun Property,  announced they w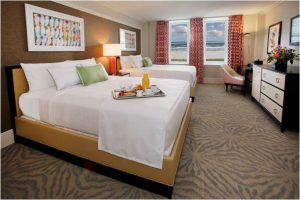 ill be finalizing phase one of a larger room renovation project in its Ocean Tower by Memorial Day weekend. This renovation is the initial stage of the estimated $25 million overall project. In time for summer bookings to ramp up, the hotel rooms have been completely renovated with new bathrooms, furniture, windows, window treatments, wallpaper, carpet, artwork and linens.
Overall, since 2012, Resorts Casino Hotel has completed more than $100 million in renovations, which has proved to beneficially position the brand as a leader in Atlantic City. The hotel reported an increase of 17.8 million in net revenue or +13 percent with a gross operating profit of 15.6 million which is a +527 percent increase from the previous year.
Additionally, the new state of the art Convention Center which opened in August 2015 is showing immediate returns, driving a 30 percent increase in the booking pace compared to 2015. The $4.7 million multi-faceted convention space added 12,000 square feet of meeting space, encompassing a 6,500 sq ft Ballroom and 12 meeting rooms. The expansion brings the total meeting space to 64,000 sq ft with 24 meeting and event rooms, including four ballrooms and a multi-purpose showroom. The expansion resulted in a significant increase in meetings and convention business, as its high-tech meeting room offerings far surpass other Atlantic City options, and is now attracting group business that has traditionally booked outside of Atlantic City.
"Our recent financial success and economic turnaround can be attributed to our dedicated staff's devotion to providing an unmatched guest experience, combined with continued investments into property renovations led by Atlantic City's own, Morris Bailey," said Mark Giannantonio, President & CEO at Resorts Casino Hotel. Morris, a New York Real Estate Developer and owner of the Resorts Casino Hotel, is determined to bring his home town back to its roots of being the East Coast's premiere beachfront, boardwalk and tourist destination. Along with the management partnership with Mohegan Sun in 2012, Morris's investment into Resorts Casino Hotel has played a significant role in its financial turnaround, reporting profitable earnings in both 2014 and 2015.
The addition of Jimmy Buffett's Margaritaville and Landshark Bar & Grill Entertainment Complex, an estimated $35 million project, both represents the progress and commitment the brand is making to the town, while broadening the casino hotel's appeal by providing added incentive for travelers to visit. Further, the exclusive new partnership with PokerStars, which launched in New Jersey in March, will likely contribute to the brand's emergence as a frontrunner in Atlantic City, as well as New Jersey's poker and online gaming market.
ABOUT RESORTS CASINO HOTEL
Resorts Casino Hotel brought gaming to Atlantic City in 1978 and is at the top of its game today, with the opening of the new technologically advanced Resorts Conference Center. Resorts Casino Hotel made history as the first American casino outside of Nevada and celebrated its 35th anniversary in May 2013 with the opening of a $35-million Margaritaville casino and entertainment complex that includes, among other attractions, the only year-round beach bar on the Atlantic City sand. The destination offers world-class casino action in a relaxed environment that keeps the focus on fun.
Mohegan Gaming Advisors assumed management of Resorts Casino Hotel in fall 2012 – a move that has set the stage for its return as the most exciting gaming destination in Atlantic City. Boasting a prime location spanning 11 acres at the northern end of the famed Atlantic City Boardwalk, the resort features 942 guest rooms and suites in two hotel towers, an 80,000 square-foot casino, ten restaurants, a food court featuring five eateries, two VIP slot and table player lounges, a casino bar, indoor-outdoor swimming pool, health club and spa, salon, and retail shops. Its 64,000+ square feet of sophisticated meeting space includes 24 meeting rooms, four ballrooms, two theaters and the Tower Conference Level with spectacular views of the Atlantic City skyline and Atlantic Ocean. For more information on Resorts Casino Hotel visit www.ResortsAC.com or follow us on Twitter at www.twitter.com/resortscasino or on Facebook at www.facebook.com/resortscasino