Freshly grown herbs and vegetables for guests to enjoy
ATLANTIC CITY, NJ (August 9, 2016) – Resorts Casino Hotel is excited to showcase the ravishing rooftop garden full of deliciousherbs and vegetables. The container gardening project began a year ago when Capriccio chef, Chef Steve, remarked how pleasing it would be to have a garden outside the Capriccio patio for guests to enjoy. Together, both Chef Steve and Chef Levenson started the garden with a mixture of tasteful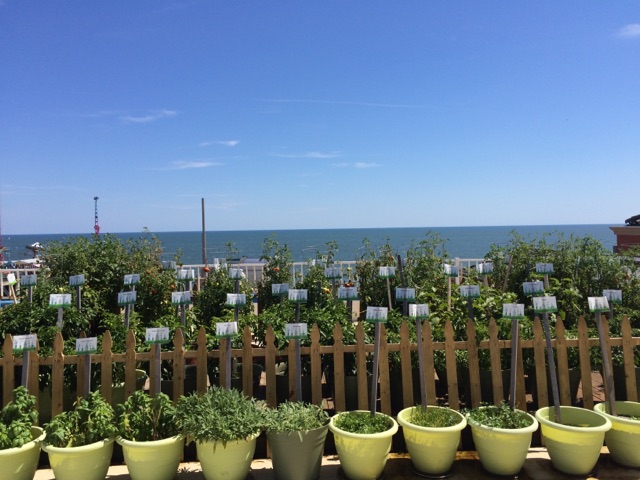 herbs such as Italian basil, rosemary, English thyme, oregano, spearmint and pineapple mint, marjoram and lavender, for a nice touch of blue flowers.
Pleasing to view, the flourishing garden is a success. When the Capriccio patio went under renovation for outdoor seating,Edward Batten, the Executive Director of Food and Beverage joined the chefs to create a larger garden on the rooftop. A nice touch to the property, the chefs now forage this garden daily and all of the items are used in Capricco, Breadsticks and Eastwind.
Planted this year are five different types of peppers including; bell, cubanelle, serrano, jalapeno and Thai hot pepper. Fourdifferent kind of tomatoes; San Marzano Plum tomatoes, Roma Plum tomatoes, Rutgers tomatoes and Brandywine tomatoes. Seven different kinds of herbs; English thyme, sweet basil, rosemary, Italian parsley, Italian sage, spearmint and cilantro. In addition, a variety of vegetables have been introduced to the garden including; eggplant, cucumber, bitter melon, and loofah.
ABOUT RESORTS CASINO HOTEL
The resort that brought gaming to Atlantic City in 1978, Resorts Casino Hotel is at the top of its game today, offering world-class casino action in a relaxed environment that keeps the focus on fun. Resorts Casino Hotel made history as the first American casino outside of Nevada and celebrated its 35th anniversary in May 2013 with a new milestone: the opening of a $35 million Margaritaville casino and entertainment complex that includes, among other attractions, the only beach bar on the Atlantic City sand.
Mohegan Gaming Advisors assumed management of Resorts Casino Hotel in 2012, a move that has set the stage for its return as the most exciting gaming destination in Atlantic City. Boasting a prime location spanning 11 acres at the northern end of the famed Atlantic City Boardwalk, the resort features 942 guest rooms and suites in two hotel towers, an 80,000-square-foot casino, two theaters, six restaurants, two VIP slot and table player lounges, a casino bar, indoor-outdoor swimming pool,  health club and spa, salon, and retail shops. Its 64,000 square feet of technologically advanced meeting space includes 24 meeting and function rooms, most featuring natural light and ocean views, and a 13,000-square-foot ballroom. For more information, visit ourwebsite or call 1.800.334.6378. Connect with us onFacebook, follow us on Twitter orInstagram and view us on YouTube.
# # #