Legendary Entertainer to Perform in Superstar Theater on New Year's Eve, December 31st
ATLANTIC CITY, NJ (October 21, 2015) – One of America's most endearing and enduring stars, Tony Orlando, brings his warmth and exhilarating energy to Resort Casino Hotel's Superstar Theater on New Year's Eve, Thursday, December 31st, at 10:30pm.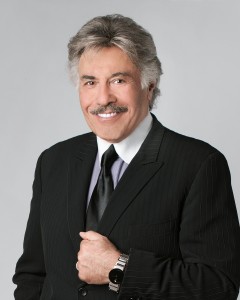 Tickets for this show are currently on sale for $55.00, $45.00 and $35.00 through Ticketmaster. Customers may purchase tickets by logging on to ticketmaster.com, calling Ticketmaster's national toll free number 1.800.745.3000 or visiting any Ticketmaster outlet.
No entertainer can move and excite an audience like Tony Orlando, and he remains one of America's best-loved personalities. Orlando has been a recipient of three American Music Awards and a People's Choice Award; his hits include "Knock Three Times," "Tie A Yellow Ribbon 'Round The Ole Oak Tree," "Candida,"  "Sweet Gypsy Rose," "He Don't Love You," "Who's In The Strawberry Patch With Sally," "Cupid," "Steppin' Out (Gonna Boogie Tonight)" and "Mornin' Beautiful." Orlando has conquered virtually every facet of show business and has starred in his own popular television variety series as well as in various movies and Broadway shows, and his universal appeal has spanned numerous generations.
Orlando's "Tie A Yellow Ribbon 'Round The Ole Oak Tree," released in 1973, became known as his theme song and later grew into an American anthem of hope and homecoming, reunion and renewal. The yellow ribbon has welcomed home Prisoners of War from Laos, Cambodia and Vietnam, hostages from Iran and the troops from Desert Storm. Each Veterans Day in Orlando's hometown of Branson, Missouri, Veterans are honored with the Tony Orlando Yellow Ribbon Salute to Veterans. As part of this Salute, Tony presents the Yellow Ribbon Medal of Freedom. Past recipients have included Bob Hope, former Prisoner of War Major Stephen Long, BoxCar Willie, Connie Stevens and Mary Eisenhower, granddaughter to President Dwight D. Eisenhower.
Learn more about Tony Orlando on his website.
ABOUT RESORTS CASINO HOTEL
The resort that brought gaming to Atlantic City in 1978, Resorts Casino Hotel is at the top of its game today, offering world-class casino action in a relaxed environment that keeps the focus on fun. Resorts Casino Hotel made history as the first American casino outside of Nevada and celebrated its 35th anniversary in May 2013 with a new milestone: the opening of a $35 million Margaritaville casino and entertainment complex that includes, among other attractions, the only beach bar on the Atlantic City sand.
Mohegan Gaming Advisors assumed management of Resorts Casino Hotel in 2012, a move that has set the stage for its return as the most exciting gaming destination in Atlantic City. Boasting a prime location spanning 11 acres at the northern end of the famed Atlantic City Boardwalk, the resort features 942 guest rooms and suites in two hotel towers, an 80,000-square-foot casino, two theaters, six restaurants, two VIP slot and table player lounges, a casino bar, indoor-outdoor swimming pool,  health club and spa, salon, and retail shops. Its 64,000 square feet of technologically advanced meeting space includes 24 meeting and function rooms, most featuring natural light and ocean views, and a 13,000-square-foot ballroom. For more information, visit our website or call 1.800.334.6378. Connect with us on Facebook, follow us on Twitter or Instagram and view us on YouTube.