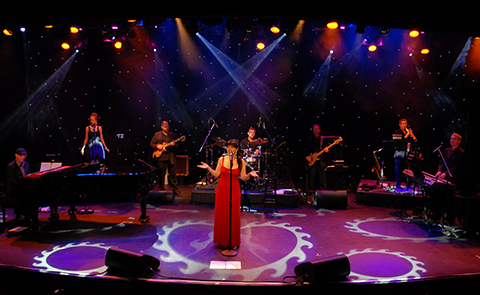 ATLANTIC CITY, NJ (January 20, 2017) – We've Only Just Begun: Carpenters Remembered is the definitive celebration of the Carpenters' songbook and an intimate behind-the-scenes portrait of one of the most successful recording acts of all time. Led by Michelle Berting Brett and accompanied by a live, 7-piece Nashville band directed by Harry Sharpe, the show re-creates the Carpenters original sound. Set for a one-night-only performance on Saturday, March 11th inside the Superstar Theater at 8:00pm.
Ticket prices are $35.00 and $25.00 and will go on sale on Saturday, January 21st through Ticketmaster at www.ticketmaster.com or 1.800.745.3000. Tickets will also be available at the Resorts' Box Office.
From California, to New York City, to sold out engagements in Las Vegas, We've Only Just Begun: Carpenters Remembered has been met with enthusiasm from Carpenters' fans and reviewers alike!
It is no coincidence that We've Only Just Begun: Carpenters Remembered played to an SRO audience at the 800-seat Downey Theatre (near Los Angeles) this past August. The Carpenters grew up in Downey and as the city celebrated its 60th Anniversary of Independence, a weekend of celebrations culminated in a performance of the show celebrating Downey's most famous residents.
The Carpenters sold more than 100 million records worldwide and the performance of We've Only Just Begun: Carpenters Remembered includes many of their well-known classics, among them "We've Only Just Begun," "Close to You," "Yesterday Once More," "Rainy Days & Mondays" and many more!
ABOUT RESORTS CASINO HOTEL
The resort that brought gaming to Atlantic City in 1978, Resorts Casino Hotel is at the top of its game today, offering world-class casino action in a relaxed environment that keeps the focus on fun. Resorts Casino Hotel made history as the first American casino outside of Nevada and celebrated its 35th anniversary in May 2013 with a new milestone: the opening of a $35 million Jimmy Buffett's Margaritaville casino and entertainment complex that includes, among other attractions, LandShark Bar & Grill, the only beach bar on the Atlantic City sand open year-round.
Mohegan Gaming Advisors assumed management of Resorts Casino Hotel in 2012, a move that has set the stage for its return as the most exciting gaming destination in Atlantic City. Boasting a prime location spanning 11 acres at the northern end of the famed Atlantic City Boardwalk, the resort features 942 guest rooms and suites in two hotel towers, an 80,000-square-foot casino, two theaters, six restaurants, two VIP slot and table player lounges, a casino bar, indoor-outdoor swimming pool,  health club and spa, salon, and retail shops. Its 64,000 square feet of technologically advanced meeting space includes 24 meeting and function rooms, most featuring natural light and ocean views, and a 13,000-square-foot ballroom. For more information, visit our website or call 1.800.334.6378. Connect with us on Facebook, follow us on Twitter or Instagram and view us on YouTube.