A premier meetings destination in Atlantic City
Recent winner of the 2016 Pinnacle and Gold Key Awards for "Best Renovation" and the Gold Key Award for "Best On-Site Support Staff," Resorts Casino Hotel has undergone $100 million in renovations, including the $35 million Jimmy Buffett's Margaritaville themed entertainment complex, the all new state-of-the-art Resorts Conference Center and, most recently, the completion of phase one of a larger $25 million room renovation project. The resort that brought gaming to Atlantic City outdoes itself on the business planning front too, as one of the premier meeting destinations on the East Coast, with unmatched service and amenities for meeting planners of all types.
"We are greatly honored to receive these prestigious awards as well as celebrate the one-year anniversary of our state-of-the-art conference center. We are committed to making smart investments, and to offer our guests superior amenities and world-class service. We are especially proud to receive the Gold Key Award for "Best On-Site Staff," which can be attributed to all the hard work of our dedicated team members," said Mark Giannantonio, President and CEO of Resorts Casino Hotel.
All New Resorts Conference Center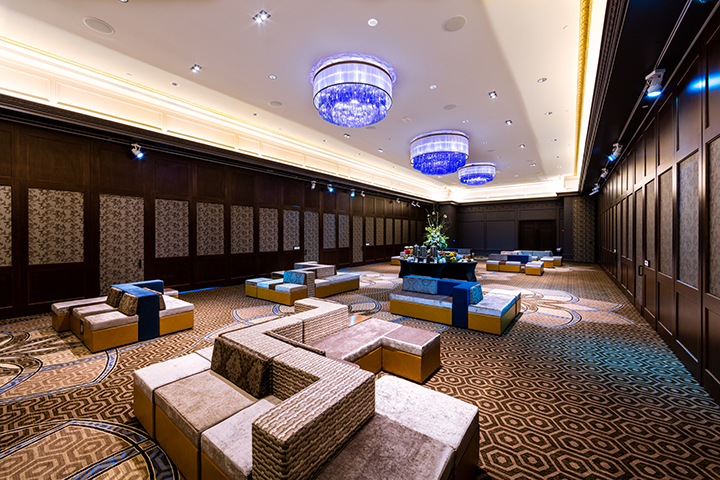 Just about a year since its grand opening and perched along the Atlantic City Boardwalk with breathtaking views ofthe Atlantic Ocean, an event at Resorts Casino Hotel is like no other. The conference center is an attractively designed, 12,000 square foot, technologically advanced facility. It features 12 conference rooms where more than 500 meeting attendees can wirelessly connect devices simultaneously, while sharing screens with each other and even off-site colleagues in remote locations. Each conference room has built-in 90" LED 1080P monitors, and most have cinema quality DLP projection with oversized drop down screens. Resorts also has two theaters, offering seating for 300 or 1,350, equipped with state-of-the-art sound and light technology along with four ballrooms of varying sizes.
The showpiece of The Resorts Conference Center is the gorgeous Atlantic Ballroom, home to a spacious multi-use pre-function area, natural lighting and four sets of operable & divisible walls which can allow for truly customizable conference experience. The new conference center brings the total offerings at Resorts to 64,000 square feet with 24 meeting and function rooms, most featuring natural light and ocean views.
All Inclusive Meeting Package
The first casino to open in Atlantic City has embraced the all-inclusive trend for value-conscious travelers and applied it to group meetings. Guests can turn their meeting into an exciting getaway with Resorts All Inclusive Meeting Package. The package provides three meals daily including dinner in either of Resorts two gourmet restaurants Gallagher's Steak House and Capriccio, or Jimmy Buffett's Margaritaville and LandShark Bar & Grill. This package also features AM & PM breaks, meeting space, built-in A V in the new Resorts Conference Center, WI-FI in meeting & guest rooms, parking, all gratuities and taxes, upgraded guest room and more, from $199.00 per person, per night, double occupancy or $239 single Sunday-Thursday. (Price varies by season.)
"I can't say enough how blown away I was with Resorts All-Inclusive Meeting Package! What a terrific idea to bundle everything and more into one piece. From the moment we arrived we were treated like VIP's, with upgraded rooms, valet parking, amazing food, new high tech meeting rooms and superior customer service. Having organized several events in other Atlantic City locations, Resorts, by far, exceeds all expectations. The pricing for the all-inclusive package is amazing and beats out any competition. My team has already requested to go back to Resorts for our next meeting," said Denise Lewis, Sr. Administrative Associate of Liberty Mutual Insurance.
Beach Front Private Functions
Resorts Casino Hotel's Jimmy Buffett's Margaritaville Entertainment Complex includes the Margaritaville Café and LandShark Bar & Grill, the only full-service, on the beach restaurant and bar in Atlantic City, with nightly entertainment and year-round service. Treat your group to taste of paradise at the $35 million, 17,400 square foot island-inspired entertainment complex at Resorts Casino Hotel. Experience a change of latitude when visiting the iconic Margaritaville restaurant, themed coffee and retail shops, 5 O'clock Somewhere Bar, and the innovative LandShark Bar & Grill – Atlantic City's only year-round beach bar. Both the Margaritaville Café and LandShark Bar & Grill are available for private parties up to 500.
For more information about Resorts Casino Hotel, please visit www.resortsac.com.
To book a meeting or event, call (609) 340-7850 or visit www.meetatresorts.com.
ABOUT RESORTS CASINO HOTEL
Resorts Casino Hotel brought gaming to Atlantic City in 1978 and is at the top of its game today, with the opening of the new technologically advanced Resorts Conference Center. Resorts Casino Hotel made history as the first American casino outside of Nevada and celebrated its 35th anniversary in May 2013 with the opening of the $35-million Jimmy Buffett Margaritaville casino and entertainment complex that includes, among other attractions, the only year-round beach bar on the Atlantic City sand. The destination offers world-class casino action in a relaxed environment that keeps the focus on fun.
Mohegan Gaming Advisors assumed management of Resorts Casino Hotel in Fall 2012 – a move that has set the stage for its return as the most exciting gaming destination in Atlantic City. Boasting a prime location spanning 11 acres at the northern end on the famed Atlantic City Boardwalk, the resort features 942 guest rooms and suites in two hotel towers, an 80,000 square-foot casino, 10 restaurants, a food court featuring five eateries, two VIP slot and table player lounges, a casino bar, indoor-outdoor swimming pool, health club and spa, salon, and retail shops. Its 64,000+ square feet of sophisticated meeting space includes 24 meeting rooms, four ballrooms, two theaters and the Tower Conference Level with spectacular views of the Atlantic City skyline and Atlantic Ocean. For more information, visit http://www.meetatresorts.com.