Atlantic City Icon Celebrates 10th Anniversary With Prix Fixe Menu, Including Legendary New York Strip Steak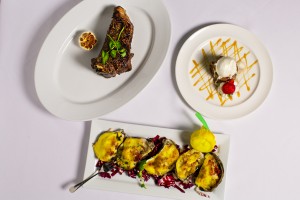 ATLANTIC CITY, NJ (January 4, 2016) – A decade ago in 2006, the legendary Gallagher's Steakhouse opened its doors inside Resorts Casino Hotel. This New York icon, founded in 1927, was the first restaurant to serve the New York Strip Steak and is known still today as the only place to have it perfected.
Inside Resorts Casino Hotel, Gallagher's Steakhouse offers the same superbly-prepared meals and spectacular ambiance without leaving the glorious Atlantic City shore. The restaurant's walls are adorned with autographed pictures of the dozens of celebrities that have dined within, booths are ample and comfortable, and the friendly staff is dedicated to providing a remarkable dining experience. Delight in the renowned house-aged New York Strip Steak, superior seafood specialties or numerous other cuts of the finest beef, all dry-aged for 21 days at a constant 36 degrees to ensure maximum tenderness.
To celebrate its 10th anniversary in Resorts Casino Hotel, Gallagher's Steakhouse is offering a special Prix Fixe meal for the entire month of January. For only $55.00 per person, begin with Baked Oysters stuffed with crabmeat, baby spinach and smoked bacon topped with a creamy Hollandaise Sauce. Then enjoy Gallagher's Steakhouse's famous dry-aged New York Strip Steak along with a garnish of Garlic Mash.  Cap off the evening with decadent Sticky Pudding—an English toffee cake enrobed in a warm cinnamon-caramel sauce, topped with velvety-smooth vanilla ice cream.
While at Gallagher's, imbibe in a timeless cocktail such as the High Roller, featuring blood-orange vodka marinated with fresh Hawaiian pineapple for 14 days; a refreshing Manhattan, house-infused with different ingredients each week or the Dealer's Choice including crisp Belvedere vodka served in a chilled glass garnished with fresh green olives stuffed with blue cheese.
For complete details on all happenings at Resorts Casino Hotel, visit their website.
ABOUT RESORTS CASINO HOTEL
The resort that brought gaming to Atlantic City in 1978, Resorts Casino Hotel is at the top of its game today, offering world-class casino action in a relaxed environment that keeps the focus on fun. Resorts Casino Hotel made history as the first American casino outside of Nevada and celebrated its 35th anniversary in May 2013 with a new milestone: the opening of a $35 million Margaritaville casino and entertainment complex that includes, among other attractions, the only beach bar on the Atlantic City sand.
Mohegan Gaming Advisors assumed management of Resorts Casino Hotel in 2012, a move that has set the stage for its return as the most exciting gaming destination in Atlantic City. Boasting a prime location spanning 11 acres at the northern end of the famed Atlantic City Boardwalk, the resort features 942 guest rooms and suites in two hotel towers, an 80,000-square-foot casino, two theaters, six restaurants, two VIP slot and table player lounges, a casino bar, indoor-outdoor swimming pool,  health club and spa, salon, and retail shops. Its 64,000 square feet of technologically advanced meeting space includes 24 meeting and function rooms, most featuring natural light and ocean views, and a 13,000-square-foot ballroom. For more information, visit our website or call 1.800.334.6378. Connect with us on Facebook, follow us on Twitter or Instagram and view us on YouTube.