Former Members of Electric Light Orchestra To Appear on Saturday, January 2nd
ATLANTIC CITY, NJ (October 22, 2015) –Former members of Electric Light Orchestra and Electric Light Orchestra Part II have regrouped as The Orchestra, and bring their classic Rock hits with an orchestral flair to Resort Casino Hotel's Superstar Theater on Saturday, January 2nd at 9:00pm.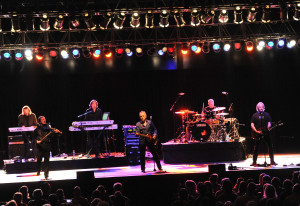 Tickets for this show are currently on sale for $45.00, $35.00 and $25.00 through Ticketmaster. Customers may purchase tickets by logging on to ticketmaster.com, calling Ticketmaster's national toll free number 1.800.745.3000 or visiting any Ticketmaster outlet.
Electric Light Orchestra (ELO) was a powerhouse stadium and arena band that toured the world and recognized great success between 1971 and 1986. In the late 1980s the six-man symphonic Rock band ELO Part II was formed, the group wowed audiences with their stellar musicianship and joyous stage personas. At the turn of the millennium there was another name change.
Performing as The Orchestra since 2000, former ELO members Mik Kaminski and Lou Clark, and former ELO Part II members Eric Troyer, Parthenon Huxley, Gordon Townsend and Glen Burtnik, have played to sold-out houses and become a spectacular touring unit, thrilling crowds everywhere they play. The Orchestra continues to perform the classic hits like "Evil Woman," "Strange Magic," "Livin' Thing," "Do Ya," "Sweet Talkin' Woman" and "Telephone Line" with award-winning symphony orchestras all over the world, creating a musical spectacle unmatched in classic Rock.
Learn more about The Orchestra as www.TheOrchestraTourPromo.com
ABOUT RESORTS CASINO HOTEL
Resorts Casino Hotel brought gaming to Atlantic City in 1978 as the city's first casino hotel, and the first legal casino outside of Nevada. Today, Resorts Casino Hotel is at the top of its game, offering world-class casino action in a relaxed environment that keeps the focus on fun. Resorts Casino Hotel celebrated its 35th anniversary in May 2013 with a new milestone: the opening of a $35 million Margaritaville casino and entertainment complex that includes, among other attractions, the only year-round beach bar on the Atlantic City sand.
Mohegan Gaming Advisors assumed management of Resorts Casino Hotel in Fall 2012 – a move that has set the stage for its return as the most exciting gaming destination in Atlantic City. Boasting a prime location spanning 11 acres at the northern end of the famed Atlantic City Boardwalk, the resort features 942 guest rooms and suites in two hotel towers, a 80,000 square-foot casino, two theaters, six restaurants, two VIP slot and table player lounges, a casino bar, indoor-outdoor swimming pool, health club and spa, salon, and retail shops. Its 64,000 square feet of technologically advanced meeting space includes 24 meeting and function rooms, most featuring natural light and ocean views, and a 13,000-square-foot ballroom. For more information, visit resortsac.com.